At Circumcision Pro we have a huge wealth of experience and have performed over 12,000 successful circumcisions. Our surgeons have been working in the NHS and private sector for many years and have received extensive training specifically in different circumcision techniques. They are experts at carrying out circumcisions and also skilled at performing revision procedures. All surgeons are registered with the GMC and always operate at the highest level ensuring they provide the best possible care in a safe and clean environment.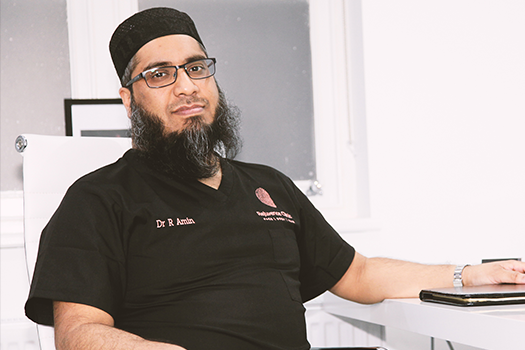 Dr Amin is the co-founder and Medical Director of Circumcision Pro.
Dr Amin is the co-founder and Medical Director of Circumcision Pro.
Dr Amin qualified as a doctor in 1996 from the University Of Leicester Medical School. He has been registered as a medical doctor with the General Medical Council since 1997. He has under taken extensive surgical training at various hospitals in Leicester, London, Hertfordshire & Bedford. Between 1997 and 2002 Dr Amin worked in General & Vascular Surgery, Urology, Orthopaedics & ENT. He qualified as a GP (General Medical Practitioner) in 2003.
Dr Amin has been performing circumcisions for the last 10 years and his complication rates are extremely low. He is able to perform male circumcisions in all age groups from newborns right through to adults. When it comes to circumcisions, Dr Amin is probably one of the most experienced surgeons in the country. You couldn't be in safer hands.
Dr Amin is the Medical Director of Rejuvence Clinic providing cutting edge aesthetic and hair loss treatments. He is also the Medical Director of Rejuvence Medical – a private medical clinic providing affordable healthcare services and has a special interest in minor surgery.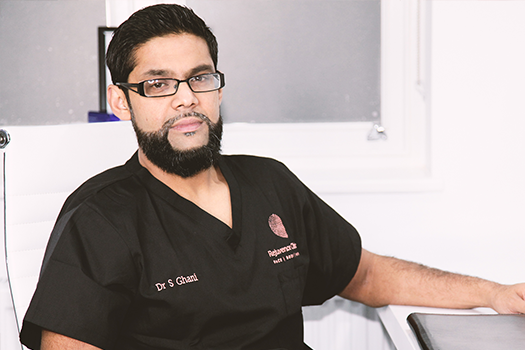 MBBS BSc MRCSEd MScAesth FRCEM
Dr Ghani is the Co-Founder and Clinical Director of Circumcision Pro.
Dr Ghani is the Co-Founder and Clinical Director of Circumcision Pro.
Dr Ghani qualified as a doctor in 2004 from Guy's King's and St Thomas' Medical and Dental Schools. He has been registered as a Medical Doctor with General Medical Council since 2005. Dr Ghani has undertaken surgical training at numerous central London hospitals, including Guy's and St Thomas' Hospital and Kings College. He has gained experience in General Surgery, Vascular Surgery, Orthopaedics, and Cardiothoracics. Dr Ghani has also gained significant experience in Plastic Surgery at the Royal Free Hospital and Great Ormond Street Hospital.
He completed membership with the Royal College of Surgeons of Edinburgh in 2007 and has published research in a variety of medical journals and presented at national and international scientific meetings. He has subsequently become a Fellow of the Royal College of Emergency Medicine and is now an NHS Emergency Medicine Consultant at Barts Health.
Dr Ghani works very closely with Dr Amin. Dr Ghani specialises in plastibell and circumplast circumcisions and operates on males up to the age of 5 years. He has a very low complication rate and is very dedicated to his patients making himself available at all hours. He has a passion for delivering excellent patient care at all times.
Dr Ghani is the Clinical Director of Rejuvence Clinic providing cosmetic and aesthetic services with a keen interest in VASER liposuction. He is one of the few surgeons providing Renuvion Skin Tightening in the UK and was exclusively trained by Dr Jack Zamora in Denver, Colorado. Dr Ghani is also the Clinical Director of Rejuvence Medical – a private medical clinic offering affordable private GP services, Urgent Care, Blood Tests, IV Vitamin Therapy and diagnostic Ultrasound.
MBBS MRCGP PgD – Clinical Dermatology
Dr Waqas Chaudhary is a General Practitioner in the NHS. He has also completed Post Graduate Diploma in Clinical Dermatology, from Queen Mary University, London.
Advance Hair Implants  is a doctor led organization and works with Rejuvence Clinic which is a CQC Registered Clinic.  Dr Chaudhary himself does all face to face Consultations for the patients who contact us for Hair Loss Problems.
He has worked in different specialties in the NHS hospitals, including Trauma & Orthopaedic, Accident&Emergency and  General Medicine and completed Full-time training to become a General Practitioner.
He completed the theoretical and surgical training to become a Hair Transplant Surgeon from a well-known Global Organisation. He is currently a Full Member of International Society of Hair Restoration Surgery , ISHRS and Full Member of FUE Europe.
Due to his special interest in treatments for Hair Loss and in order to stay up to date with all the new advances, he  attends and participates in different International Hair Restoration workshops, Practical sessions, International Conferences and educational events. 
He has also worked with other Hair Transplant Surgeons in the UK and abroad to gained knowledge and experience by assisting and performing various kinds of cases. Dr Waqas performs circumcisions in babies only and works closely with Dr Amin.He has also special interest in minor surgeries.